Tehran, April 16, IRNA – Iran's Foreign Minister Mohammad Javad Zarif and the European Union Foreign Policy Chief Federica Mogherini stressed bilateral cooperation.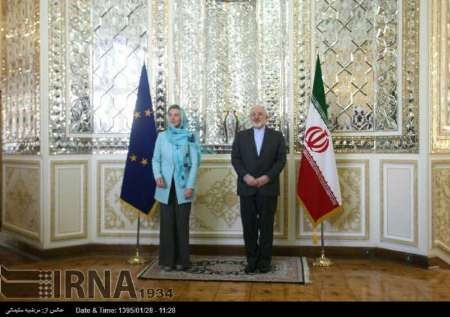 In a statement at the end of their bilateral meeting here on Saturday, the EU High Representative and Vice-President of the European Commission (HRVP) and Zarif highlighted their ultimate commitment to the Joint Comprehensive Plan of Action (JCPOA) and said the implementation of the document opened a new chapter in mutual relations.
They also pointed to implementation of the JCPOA, expansion of cooperation to enhance economic development and social welfare, grow peace and stability in the region and peaceful settlement of disputes as their common goals.
The two sides, taking stock of their long standing relations, based upon mutual respect and interests, reiterated their intention to develop a broad and comprehensive agenda for bilateral cooperation.
They welcomed the implementation day of the Joint Comprehensive Plan of Action (JCPOA) on 16 January 2016 that contributed to opening a new chapter in EU-Iran relations. The EU and Iran are fully committed to the JCPOA and its implementation in all its aspects. It was reconfirmed that the continued and full implementation of the JCPOA remains of utmost importance.
The two diplomats further agreed on facilitating process of cooperation and stressed the need to take preparatory measures to open EU representative office in Iran based on the rules and regulations of the host country.
It was agreed that an EU team will visit Tehran for this purpose.
The two sides also stressed the need for regular exchange of views and political conversation at the ministerial level in an annual basis.
Apart from Mrs Mogherini, European Commission representatives present included EU Commissioners Elzbieta Bienkowska (Internal Market, Industry, Entrepreneurship and SMEs), Arias Cañete (Climate Action and Energy), Christos Stylianides (Humanitarian Aid and Crisis Management), Violeta Bulc (Transport), Carlos Moedas (Research, Science and Innovation), Karmenu Vella (Environment, Maritime Affairs and Fisheries) and Tibor Navracsics (Education, Culture, Youth and Sport). They met with their Iranian counterparts.
It was stated that following shared and overarching objectives are vital for the promotion of EU-Iran relations:
* Ensuring and supporting the full implementation of the JCPOA in order to further improve and deepen bilateral cooperation;
* Developing cooperative relations in areas of mutual interest to benefit the economic development, human rights, prosperity and well-being of the people of Iran and the EU;
* Promoting regional peace, security and stability as well as peaceful settlement of regional conflicts through dialogue and engagement.
* Facilitating the programme of cooperation as set out below and with a view to preparing the future opening of an EU Delegation in Tehran, in accordance with rules and regulations of the Islamic Republic of Iran, an EU liaison team will be sent to Tehran. This will contribute to strengthening the relations and implement future cooperation initiatives.
They also stated that the EU and Iran intend to cooperate in the following areas:
-Political Consultations
The two sides intend to enhance their political dialogue through consultations at the level of the HRVP and the Iranian Foreign Minister, annually. This advances the existing agreement to meet regularly for a High Level Dialogue at Deputy Minister/ Political Director level. Senior officials and experts will meet as required to explore other fields of mutual interest in which bilateral, regional and international cooperation projects could be developed.
-Human Rights
The two sides expressed their determination to enhance and promote human rights. In this context, they intend to engage in a human rights dialogue. To this end, they would welcome the exchange of visits of delegations.
-Economic Cooperation
The two sides encourage the expansion of economic relations between EU and Iran, recognizing the importance of macro-economic issues, trade, finance and investment in achieving sustainable growth and development. They intend to engage in a macro-economic and finance dialogue including on the following initiatives:
-Improve and enable financial as well as encouraging banking cooperation between the EU and Iran. The EU can assist if required in addressing Anti Money Laundering and Countering Financing of Terrorism (AML/CFT) issues;
-Explore the prospect of extending the third country lending mandate of the European Investment Bank (EIB) to Iran, to enhance the availability of finance for investment in Iran and possible blending (of loans with grants);
-Cooperation in a variety of sectors with a focus in particular on encouraging regulatory and industrial policy and reinforcing strategy towards durable solutions. Cooperation on civil society building and strengthening of the local authorities is continuing and the two sides intend to increase this cooperation in the future.